The recipe inspired by Instagram? Yes, the chef Haruo Hichikawa together with chef Michele Biassoni of Iyo Restaurant in Milan,  have created a simple, good and of course aesthetically beautiful recipe.
Hichikawa and Biassoni, worked, shoulder to shoulder in Iyo kitchen from March 2015. Together, the reserved and talented Japanese sushiman and the brilliant young Italian chef, have earned the famous Michelin star. Iyo is the first ethnic restaurant in Italy to have received the prestigious award.
AMAEBI E.V.O (RAW SHRIMP) IN ONE BITE, you can  taste JAPANESE flavours MIXED WITH THE TASTE OF THE MEDITERRANEAN DIET
Fishing the Red Shrimp, is the only case of Italian industrial fishing. The red shrimp is caught with bottom trawls. It is captured exclusively by professional fishermen with nets that operate on muddy bottoms. It is fished in the Mediterranean and also in the Atlantic. For the record, the fishing boats of Mazara del Vallo, until a few years ago, they passed the Strait of Gibraltar. Today prefer to fish for red shrimp in the west coast of the Mediterranean between Cyprus and Turkey.
In addition to the red shrimp of Mazara del Vallo (Sicily), these are the ingredients of the recipe dedicated to Instagram:
extra virgin olive oil,
Sichuan pepper,
Bronte pistachio (Sicily),
kizami wasabi: ie the top of the Wasabi root, chopped
 tips of avocado cream seasoned with a pinch of salt and lemon
three beansprout: Shamrock, green Daikon and red Shiso
Chef Ichikawa and Biassoni, uses this Identikit of the Instagma user to create the recipe:
live his\her daily lives in an aesthetic way
He\she loves to share moments of everyday beauty
He\she loves the lightness
he\she love to communicates the minimal simplicity, the details and the poetry enclosed in a moment
Here the video shoot for the Facebook page Livestreaming Italia: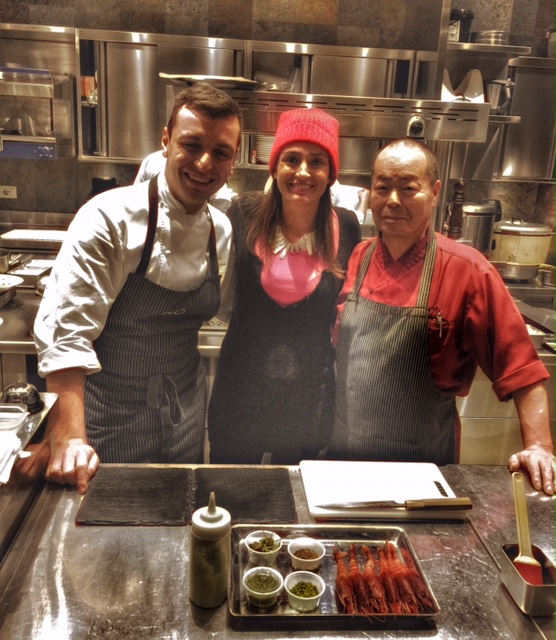 If you enjoyed, please share!
Rossella