Ho iniziato a sciare a tre anni, sulle piste di Courmayeur, la perla delle Alpi Occidentali, la più antica stazione sciistica italiana che giace ai piedi della montagna più alta d'Europa – il Monte Bianco appunto (4810 metri).
Per i milanesi Courmayeur è molto comodo, percorrendo l'autostrada ci vogliono circa due ore di guida. Per questo con la mia famiglia tutti gli inverni andavamo a Dolonne un delizioso paesino a mezzo chilometro del centro di Courmayeur.
Courmayeur è conosciuta in Italia, non tanto per il comprensorio sciistico (oltre 100 km di belle piste), non tra i più vasti d'Italia, quanto per gli ottimi ristoranti e la vita notturna che ne hanno fatto una località di moda, frequentata anche da vip. 
Se vi piace sciare al sole, sulle piste di Courmayeur è possibile. Basta utilizzare entrambi i versanti: quello di Chècrouit, esposto a Nord-Est, che gode del sole prevalentemente al mattino. Quello della Val Veny, che invece guarda a Nord-Ovest e pertanto è assolato al pomeriggio. il Monte Bianco, sovrasta il comprensorio con i suoi 4810 metri di altezza.
Se siete a Courmayeur, ecco due esperienze da non perdere:
Al confine italo-francese c'è un percorso funiviario in tre tappe che in 20 minuti copre oltre 2000 metri di dislivello tra il fondovalle e Punta Helbronner. Una magnifica terrazza panoramica a 360 gradi sull'arco alpino che porterà il vostro sguardo a spaziare dal Monte Bianco al Dente del Gigante, passando tra Cervino, Monte Rosa, il Gran Paradiso e la Grivola.
A mezz'ora da Courmayeur, ci sono le terme di Pré-Saint-Didier, paesino rinomato per l'acqua termale. Le sorgenti termali di Pré-Saint-Didier si trovano a monte della confluenza del torrente Verney nella Dora Baltea e sgorgano nella grotta artificiale che si trova alla base dell'Orrido di Pré-Saint-Didier. Sono famose per le proprietà rilassanti, ricostituenti e antireumatiche.
Qui sotto potete godere il replay della diretta registrata con la Insta360 Nano su Periscope: 
<
Back 360 on the slopes 🏂 2600mt in front of the #MonteBianco #goLive #periscope360 @insta360 #insta360 https://t.co/bcfk0dXmVm

— Rossella Canevari (@rosscaneva) 17 febbraio 2017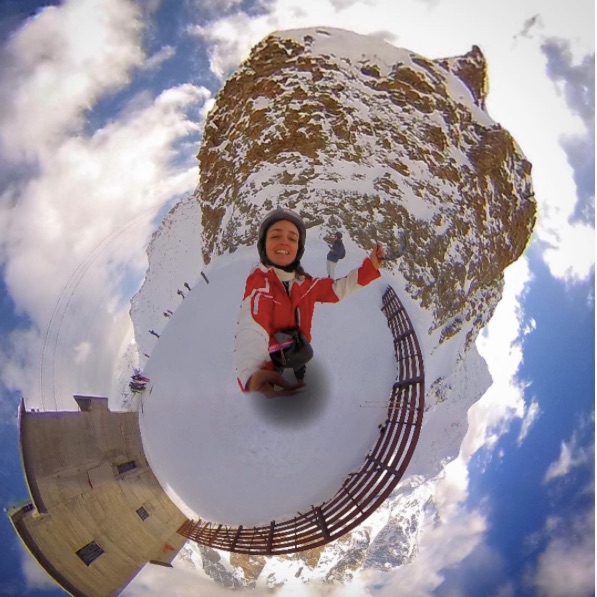 SHARING IS CARING, if you enjoyed the article, please, share it! Grazie Rossella!