I started skiing at three years old on the slopes of Courmayeur, the pearl of the Western Alps, the oldest Italian ski resort lying at the foot of Europe's highest mountain – precisely Mount Blanc (4810 meters).
For the Milanese Courmayeur it is very convenient, along the highway it takes about two hours of driving. For this reason, my family every winter (since I was ten years old) went to Dolonne a charming village half a kilometers of the center of Courmayeur.
Courmayeur is well known in Italy, not so much for the ski area, over 100 km of slopes (certainly nice but not the largest in Italy), but also for the excellent restaurants and nightlife. In the winter season is always attended by celebrities.
If you like skiing in the sun, on the slopes of Courmayeur it is possible. Just use both sides: Checrouit, facing North-East, enjoying the sun mainly in the morning. That of the Val Veny, looking instead to the northwest and is therefore sunny in the afternoon. Mont Blanc, dominates the area with its 4810 meters high.
If you are in Courmayeur, here are two experiences not to be missed:
At the Italian-French border there is a ropeway route in three stages, in 20 minutes covers over 2000 meters in altitude between the valley floor and Punta Helbronner. A magnificent panoramic terrace at 360 degrees over the Alps which takes your view to range from Mont Blanc to the Giant's Tooth, passing over Cervino, Monte Rosa, Gran Paradiso and Grivola.
Thirty minutes from Courmayeur, there are the thermal baths of Pré-Saint-Didier, and popular village to the spa water. The hot springs of Pré-Saint-Didier are located upstream from the confluence of the creek in Verney Dora Baltea and flow in the artificial cave that is located at the base of the Orrido of Pré-Saint-Didier. They are famous for relaxing, restoring and anti-rheumatic.
Below you can enjoy the replay of the live recorded with Insta360 Nano on Periscope:
<
Back 360 on the slopes 🏂 2600mt in front of the #MonteBianco #goLive #periscope360 @insta360 #insta360 https://t.co/bcfk0dXmVm

— Rossella Canevari (@rosscaneva) 17 febbraio 2017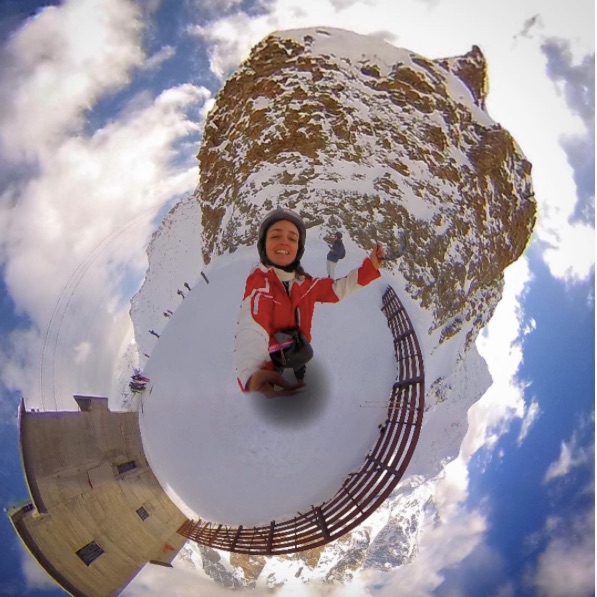 SHARING IS CARING, if you enjoyed the article, please, share it! Grazie Rossella!