Among the keywords of 2017 in the field of technology, there is live streaming, live to 360 degrees and certainly VR, the Virtual reality.
That the live streaming is, since two years now, my passion is no secret. Using Periscope or Facebook live in fact, I go live at least three days a week. It is precisely going live daily on Periscope, from wherever I was in the period of the Christmas holidays (Matera, Poliranno a Mare, Trani, Livorno), that the Arashi Vision Company, which produces the Insta360 Nano, has contacted me.
It took less than a week for the Insta360 Nano to arrived from China directly into my concierge, in Milan. It took me less than 24 hours to download the Insta360 app, the beta version of periscope, and to go live 360! So my 2017 has begun under the heading of the live 360, on periscope, using the Insta360 Nano! This means following a trend that increases the importance of the spectator as the protagonist of the live!
So to be clear, if you are used to the television standard that porduce content that are received passively, well, 360 lives are truly a great revolution. If you do not move the image with your finger in fact, you will miss the best. The fun fact is to seek what lies to the right and to the left of the frame and even upwards to the sky or going down to browse the pair of shoes that I wear or the color of the floor.
Best view of Milan Main cathedral rooftop #periscope360#insta360#GoLive#Travel@periscopetv@periscopecohttps://t.co/3chPNrr5eR

— Rossella Canevari (@rosscaneva) 16 gennaio 2017
Being still a novelty, the image resolution, using the Insta360 Nano has to improve. And obviously going live to 360 degrees on the phone, it requires a significant use of data. Keeping these two pieces of information on mind, undoubtedly going live to 360 degrees is an exciting experience. Here are the Insta360 Nano technical characteristics:
Dual-lens format, shooting in 4K mode at 15fps, or 3K at 30fps
3040 x 1520 resolution
Additional storage capacity through a micro SD card slot
Built-in 800mAh battery that gives you 100 minutes between charge
Weight 70 grams
Another fun and unexpected possibilities that offers the Insta360 Nano? Easily turn the box in a VR viewer, that is, a cardboard projector for virtual reality. In addition to video, live and not, with the Insta360 Nano you can do amazing 360 photos. Undoubtedly the Little Planet feature, that allows you to narrow the field of photography, creating a funny and extremely charming spherical effect, conquered me. And I'm not the only one, following the hashtag on Instagram or Facebook, you can find a series of creatives and intense images.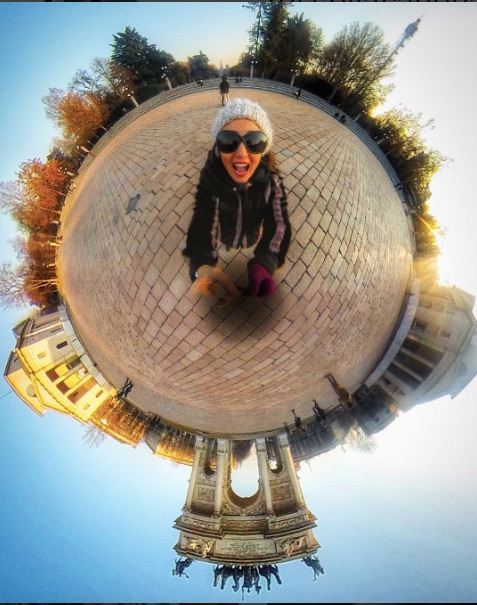 For those interested in buying the Insta360 Nano with a 5% discount code on the price, write me! Good 360 degrees to all!
SHARING IS CARING, If you liked this article, share it, Thanks Ross!