This year, the 16th "Capolavori a Tavola" event, organized by Simone Fracassi, a craftsman of the Tuscan Norcineria, among the villages of Casentino in Tuscany, was a very special edition.
Between 18th and 21st June, in the beautiful Tuscan villages of Poppi, Rassina and Sita, was launched the candidacy of Italian cuisine outside Italy, for the immaterial heritage of humanity for UNESCO.
Many and prestigious names of those who supported this candidacy
, included Fic (The Italan Chef Federation), Le Soste, Jeunes Restaurateurs d'Europe, Chic-Charming Italian chef and the International Alma School of Food. There could be no better frame than 'Il Palagio' of Stia, which on Tuesday, June 20, hosted the Italian Cuisine in the World Forum, launched by
Itchefs-Gvci
and Simone Fracassi, patron of the famous butchery and also the creator of the Festival I Capolavori del Gusto, Now at its sixteenth edition.
During the day, therefore, tastings in the Casentini villages, in the evening cooking shows like the one dedicated to pizza and pasta in the beautiful square of Bibbiena. Events loaded with a beautiful energy, attended by chefs, kitchen lovers to whom I attended thanks to the Squizzato twins, guests of the event by now three editions.
Watch the 360 degree interview, shot with the Insta360 Nano:
Photo Captions: a tasting of Tomato with the Squizzato Twins, in the second photo, a selfie with Ilde Soliani and Luca Marchini, president of JRE Italia.
Third: Simone Fracassi 's historic butchery in Casentino. The fourth shot, group photos: Simone Fracassi with the Squizzato Twins and Ilde Soliani during the last evening of Capolavori a Tavola.
Last Shot: a 360 pic, Little Planet Modality, during a Pizza Testing with the Squizzato Twins!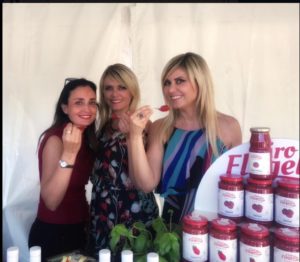 SHARING IS CARING, if you enjoyed the article, please, share it! Grazie Rossella!